Lone Worker Service
The Lone Worker Service is a great system that provides reassurance when you have to go out and meet someone on your own.
It costs just £1.50 a week and uses mobile phone technology.
Working late and on your own?
Meeting a new partner?
Out with clients (perhaps an estate agent)?
Key holder to premises?
Delivering money or valuables?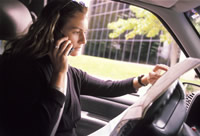 Any time you feel at risk you can log into the Lone Worker Service – you don't have to be working!. Just tell the system where you are and how long you plan to be there. If you fail to log out after your specified time an alarm will be raised.
How does the Lone Worker Service work?
You will receive a PIN number and a designated telephone number
Vitaline will take personal details from you (e.g. your description, make and registration of your car)
We will also take details of who to contact in an emergency
To log into the system you will simply enter your PIN number and follow voice prompts to inform the system e.g. you may tell it where you are and how long you will be or you may want it to know where you are going, by which route and by what time you expect to arrive
Your next contact with the system will be to re log in to tell it that your visit/journey is complete or to extend your original time period
If you fail to log out the system will automatically call you. If you do not answer, the system switches to emergency mode and appropriate action is taken.