Telehealth

Vitaline is at the forefront of a pioneering sector known as Telehealth. This is not available privately but is a service for health bodies.
The system uses state-of-the-art technology to monitor patients' vital signs, like blood pressure and pulse in the privacy of their own home. This data is then passed through a secure telephone connection to the Vitaline control centre where highly trained staff are on duty to pass the results on to health service professionals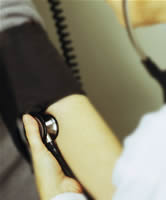 Telehealth has the potential to unblock hospital beds, especially in winter, as regular monitoring can actually prevent hospital admissions.
Through self monitoring, it encourages patients to understand and take responsibility for their condition which increases confidence and enhances quality of life.